Noro Virus and Holiday Cheer. Spread the facts, not the virus.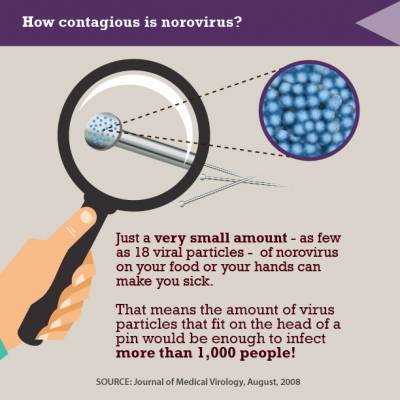 Imagine sitting in Hartsfield-Jackson in Atlanta, waiting for a connecting flight with your three children, husband already at Aunt Ginny's in LA. He missed the pre-Christmas dinner yesterday evening with your sister Sue's family because of work. Your plane is delayed by 3 hours, it's now 10pm EST and your youngest tells you she doesn't feel very good, then proceeds to vomit in front of hundreds of people also waiting for the same flight. After the initial drama, your other two children begin to feel ill, and you're feeling queasy and achy as well. Being a nurse, you know your best option is to seek private lodging with at least two bathrooms ASAP. Pay someone to bring you lots of oral rehydration fluids and hunker down for 24 - 48 hrs of complete misery while your husband enjoys Christmas dinner with family in LA.
How did this happen you ask yourself, I'm always so careful especially with the kids? You call sister Sue on a land line because your cell phone battery is now dead and ask her, was anyone at your house sick the past week? Oh yes says Sue, we all had that stomach flu thing last week, why do you ask? Because you invited me into a Hot Zone you inconsiderate dolt and never said anything about it, that's why. Click. Now understand Sue was consumed with emotions and good holiday intentions, let her kids prep food for dinner even though they still can't grasp the concept of washing their hands after using the crapper. Sue was 100% certain that the added garlic in last night's dinner would protect everyone from the plague that swept through her household the week before. She heard it on an afternoon TV talk show and thus never bothered to inform her sister.
Given that Noro is so contagious especially in closed places (holiday gatherings) it is a tough virus to avoid. However, knowing the facts and doing your part to prevent transmission and infection is still important. If you or your family have been infected, use common sense and take steps not to spread a gift that keeps on giving. Check out the CDC website and be informed.