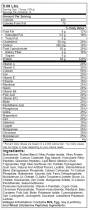 It is that time of year when clients and members are asking, what nutritional products should they purchase as gifts for family and friends, or for themselves to kick off another year of New Year's resolutions?
We all have our favorite brands, for whatever reasons, and opinions will vary greatly relative to a particular product, product line or vendor. It can become very emotional and confusing.
The purpose of this blog post is to educate, there are no endorsements or criticisms of any particular brand or specific product/ingredient, nor is it meant to be anything other than a simple guide to determine the approximate value of a product. I ask that anyone who is considering a nutrition supplement, regardless of the source (gym dudes or dudettes including personal trainers, health food store staff or your Uncle Conrad and Aunt Ginny touting their latest and greatest direct sales gig) to do their homework before purchasing any product. When I say homework, I don't mean social media where the BS piles up so fast you need wings to stay above it. I am referring to the nutritional information label, do a very rough assessment of the type and quantity of ingredients by costing them out and decide, is this product fairly priced?
Below are two examples. The first is a legitimate product, from a reputable product line (Product A) label pictured in this blog. The second is a hypothetical comparison (Product B).
Let's assume that what is listed on the information panel of the products in question are actually contained in the product, in quantities listed, are of high purity, free of contaminants that could trip a positive drug test for banned performance enhancers, and meets all FDA standards for nutrition supplements.
First one must get past the endorsements from pro athletes and celebrities, MDs and PhDs, the picture of the male or female on the label that resembles a genetically altered farm animal and subtle inferences that, if one ingests a particular product they will become a high level athlete or physique competitor at any point in their lives. Let go of the emotional marketing appeal and direct your attention to the Nutritional Facts label because that is what really matters.
See attached image as an example (Product A).
First look at the serving size and servings per container. Do they add up to the total product weight? Next look at the grams of each (fat, protein and carbohydrate) per serving, do they add up to the bulk of a serving size? Ingredients are listed in decreasing order of quantity. Product A for example, first three ingredients, Maltodextrin, Protein Blend and Lipid Blend, from there ingredients such as flavoring and vitamin/mineral mixes represent a very small part of each serving and unless it is a very expensive ingredient, contributes little to the overall cost of the product relative to the first 2 - 4 ingredients.
Next calculate the total of each main ingredient in the product. For Product A, focus on the maltodextrin, protein blend and lipid blend. By weight they make up about 93% of the total product. Go online and search for quality vendors of the main ingredients at retail pricing. For Product A, the maltodextrin, protein blend and lipid blend constitute, 52%, 36% and 5% of the total product, respectively. For example, serving size = 165 grams, there are 85 grams of carbohydrate per serving, assume all is coming from maltodextrin to keep it simple (85/165) x 100 = about 52%.
52% of 5 lbs = 2.6 lbs. Maltodextrin can be purchased for about $4.30 a pound (True Nutrition). The protein blend retails for about $12.50 lb and lipid blend at about $24.00/lb.
By weight (approximate) there are 2.6 lbs of maltodextrin x $4.3 = $11.18, 1.85 lbs of protein blend x $12.50 = $23.13 and 0.25 lb of lipid blend x $24.00 = $6.00. Total $ 40.31. This product retails for about $42, a fair price for the product.
Product B. Uncle Conrad tells you this is the best post workout drink you can buy. Will add 10 lbs of muscle in just 10 weeks. He really can't tell you why but he's sure it will work and cites multiple endorsements from folks way above his pay grade.
Product B label. Maltodextrin, soy protein, vitamins/minerals, BCAAs and creatine. 4 pound container that he buys for $60 and since you're family, he'll sell it to you for $72.00. From the label, each serving contains 75 grams of maltodextrin and 25 grams of soy. About 17 servings (107 grams each) in a 4 lb jug.
Let's do the math.
The first two ingredients constitute the bulk of the contents. 17 servings of 75 g of maltodextrin = 2.8 lbs x $4.30 = about $12. 17 servings of 25 grams soy (non-GMO) = about 0.94 lbs = $6.20. Total cost $18.37 for the primary, throw in another $ 4 for the other misc ingredients, and the product costs about $22.
Product A (comparable product with better protein) is a 5 lb container and retails for $42.
What is the cost of each, retail per pound? Product A = $8.40/lb, Product B = $18/lb or even at Uncle Conrad's cost $15/lb.
Which does one choose? If it is a one-time deal and you want to support Uncle Conrad's best interests, probably not a big deal. If however one is consuming 6 lbs a month, perhaps a different story.
Lastly, if you want to take it a step further, email the company or website and ask for ANY studies on their products. How and if they respond will tell you a lot about the company. Reasonable companies will at least honestly answer your question and be willing to fund some science as it relates to their products.
Do your homework!